There are thousands of online stores like yours. Your potential clients have thousands of choices at the tip of their fingers and the numbers keep growing not in your favor. That's why it's important to use every little opportunity to be ahead of your competition. Every little detail that you implement in your eCommerce business may have a significant effect.
As a business owner you may consider these small, sometimes simply cosmetic, tweaks to be irrelevant to the prosperity of your enterprise. However, numerous other store owners and online shoppers may disagree with you. Product descriptions, SEO structure and backend image processing are parts of this great array of issues, which you have to address. Here are some tips on how you can make your online store a friendlier place for potential buyers.
Product Names 
As we all know, product descriptions are important for your business in many ways. These can sell products and promote your business in search engines at the same time. They can also also harm your business, if you're doing them in a wrong way.
Product name is an important part of the product description. Some online retailers go overboard with theirs. Here's an example of bad product names.

These names are too long, which makes it harder to find and distinguish products. Not to mention that these contain their product IDs, which also make them a bit confusing. Both for consumers and search engines. Arguably, these could all be the same product, since they only vary in color.Here's a simple example of good product names, applied to sold items.

Simple and understandable and could easily be used as a search query: friendlier for the users and for the search engines.
Product Category Diversity 
When you're selling products, which greatly vary in their purpose, but belong in the same product category – it's important to spend a sufficient amount of resources and time to separate these products in unique categories and add unique product descriptions and names. A good example of such niche would be online shoe stores.
Take a look at this bad example.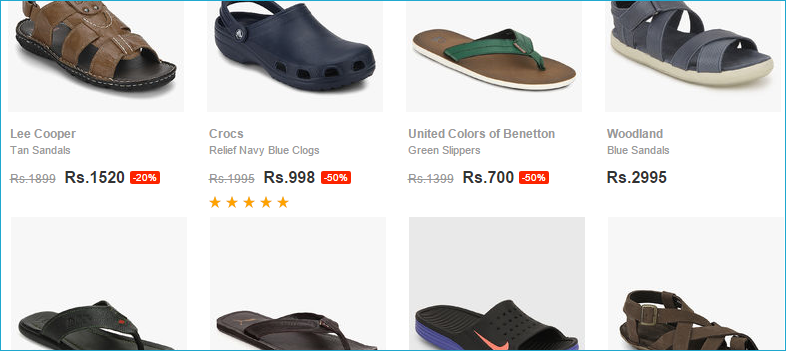 We have flip flops, clogs, slippers and sandals – all in the same category (this is not a product filter). What this means for the store:

 Less SEO opportunities: you could easily organize separate categories for these shoe types and compete for more SEO rankings.

 Navigation: when I click 'Slippers' – I don't expect to see clogs in this category. At the same time, I might be looking for clogs in other confusing categories.
And here's a good example of how stores manage their categories.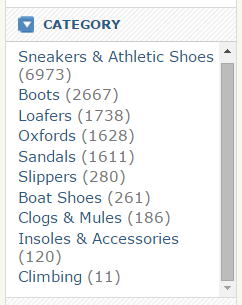 You can clearly see all of the different categories and shoe types. These are much more intuitive and understandable. This structure is also more SEO friendly, as it contains more specific categories, which better represent the search habits of potential consumers.
Image Format 
One of the most important parts of a product page is the product image. It's the closest the customer will get to the product, before actually making the purchase and look at it in person. High quality images is a must for your catalog.
But many store owners don't spend enough time and resources optimizing images for their products. What are some of the consequences of this?

 More server load, thus higher server fees and lower performance

 Decreased conversions, in case if the images take too long to load and people just leave your site

 Referring back to the first point of this article: bad 'alt' names for images of your products can really undermine your SEO
In a recent case study, we discussed how you can optimize images in your online store. But there are other ways you could do this:

 Use services like TinyJPG to compress your images

 Optimize the initial size of your pictures – don't make them too big right from the start

 Use innovative image formats, like Google's WebP
Remember that in today's competitive online markets it's important to 'be everywhere' – you have to pay attention to all of the little details that make up your online business and especially the storefront that your clients see.
What other small tweaks and additions to product catalog are important, but ignored in many online stores? Share your thoughts and ideas below.
Source: magecloud.net