Can you believe 61-77% online buyers check for reviews before they make any online purchase? It's enough to explain that product reviews aren't just meant to adorn a website, but to build business credibility, support conversions, and increase revenue, provided these reviews are voices of the real customers.
According to the local consumer review survey 2013, conducted by BrightLocal, positive product reviews made 73% consumers giving high rating to a business. However, 12% consumers didn't pay any attention to such reviews. Another survey conducted by eMarketer in 2013 revealed that 79% consumers considered product reviews as a trust factor for an online business.
This article will help you knowing some interesting facts about product reviews, how these could benefit search engine optimisation efforts, and how to get real reviews from customers.
What Stats Say About Product Reviews As Need Of An Ecommerce Business?
Visitors interacting with user-generated content on a website have 105% more chances of reaching a favorable buying decision. The spending tendency is also higher by 11% for such customers, compared to those who avoid reading reviews. (Bazaarvoice)
If a product has more than 50 reviews, the conversion rate may increase by 4.6%. (Reevoo)
An ecommerce website carrying user reviews can witness 63% conversions of site visitors. (iPerceptions)
The sales of an online business may increase by 18% if there are product reviews. (Reevoo)
How Do Product Reviews Benefit SEO?
Other than increasing the conversions for a business, product reviews can help the SEO efforts in the following ways:
Providing search engines, their favorite food
Search engines hunt for fresh and unique content, so user-generated product reviews can satisfy them. Other than the product descriptions and specifications, reviews can make a web page standing apart from the crowd, fulfilling the wish to climb up the ranking ladder.  It will also attract the audience using the product name and review as a query in search engine, hence building up the website traffic.
Better click through rates
Distilled has revealed in its findings that the click through rate of an ecommerce website increases by 10-12% if there are correctly formatted product reviews.
Higher ranks for long tail keywords
As product reviews have the same language, used by general searchers, so there are chances to get good ranks for long tail keywords.
What To Consider Making Product Reviews SEO-Friendly?
Type of reviews: They should be in text form, lacking dependency on JavaScript, Flash, iFrames etc.
No Duplication:  Make the complete review appearing on a single web page to avoid duplication.
Multiple page appearance:  User reviews should be featured on multiple pages to get higher ranks against long tail keywords.
Are Negative Reviews Supportive?
According to Reevoo, the website conversions see an increase by 67% if there are negative reviews available. Lacking any bad review makes 30% of the consumers think fishy about the product. It doesn't mean all of the reviews should be bad, but there should be a good mix of positive and negative reviews. A good mix means if there are 15 reviews on a product page, then 13 positive and 2 negative are OK to appeal to the customers.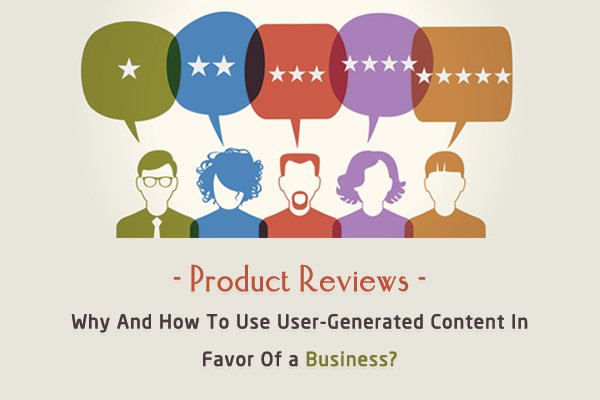 Ways To Get User Generated Content For Products
After knowing the importance of user generated content or product reviews, it's time to know the ways to get that content. Here are given some ideas!
Using 3rd party review providers
There are many review providers available to make your product pages look appealing. Reevoo, Bazaarvoice, Feefo, Trustpilot, etc., are few good names. The authentication of the product reviews make them trustworthy for the customers. The bad thing about such reviews is there is no business message to make customers think about buying.
Sending post-purchase email
After a customer has purchased from an e store, it's a good idea to send him/her an email asking about the product review. However, give the customers enough time to write such reviews. M&S has witnessed 400% increase in the feedback gained from real customers.
Using plugins
Using plugin for product reviews means offering the customers an easy way to leave their opinion. As most of the ecommerce websites are based on Magento platform due to its capability of welcoming enhanced functionalities, Magento product reviews plugin can make the task lot easier. Other than seeking reviews on the website or by sending post-purchase email, it also asks the customers to rate a product.
Ask for simple opinion
Don't expect complicated product reviews from the real customers because they might not have that much time or attention to give you. Ask for rating the product on certain scale, rating for different product aspects, and helpful summary score for the product pages.
Offer discount against reviews
Although, this is a good approach to get product reviews from the customers, but it should be done in post purchase email. In that way, customers won't be providing reviews just to get discount, but because they have actually experienced the product.
Conclusion: User generated content or product reviews are integral to make a product page appealing not just for the end users but for search engines as well. Listen to the voices of the real customers and share their words on your web pages, it will surely help building credibility, boosting the sales, and piling up revenues.
Author Bio:  This post has been published by Simon Walker. He is currently working for FmeExtensions   as an eCommerce consultant. The company is known for its Magento extensions. This post highlights the importance of having product reviews in eCommerce website.
Source: www.magecloud.net/blog